DONATE NOWBoston Centers for Youth & Families (BCYF) is playing a vital role in response to the impact of COVID-19 in Boston. In mid-March, 17 of BCYF's community centers became emergency response meal distribution sites for Boston's children, youth, and adults. Part of the City of Boston's COVID-19 food resource response effort, BCYF has distributed over 60,000 meals throughout the City. In addition, BCYF staff have delivered over 1,000 meals to homebound residents throughout the City and found creative ways to engage youth, families, and seniors.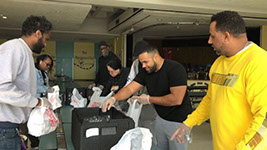 BCYF continues meal distribution and outreach, however, the needs of Boston's most vulnerable residents are urgent and complex. Residents have shared with center staff that they are struggling with a myriad of unmet needs beyond food. Anecdotal information from on-the-ground BCYF staff, along with data from the BCYF Community Needs Assessment provided a clear picture of the needs residents have during this time.
GOAL
The Foundation for BCYF is seeking donations to create 500 personalized care packages for Boston's youth, families, and seniors. The packages will include a collection of items to support individuals and families in need while they struggle with concerns such as loss of income, school and camp closures, loss of support services, feelings of loneliness and isolation, illness, and other challenges. Depending on the needs identified by each individual or family, the care packages may include items such as (but not limited to):
HOW TO SUPPORT
Our goal is to raise $150,000 to create 500 packages at a value of $300 each. You can contribute to our efforts in the following ways:
Make a one time or recurring monetary donation.
Thank you, together we can support and uplift those who are feeling the impact of this crisis the most
Covid-19 Critical Resources:
Donate and Volunteer: